Tonight was family pumpkin carving night. This year we have a total of nine–count 'em–NINE pumpkins! Whew!
Mind you, two of those were carved up at a workshop at Lee Valley, my husband's favourite store. It's a wonder I let him go in there–he's like a kid in a candy store.
This time, though, he was there with my dad, who had signed them up for a pumpkin carving workshop with the boys.
The cost of the workshop included a fantastic little set of serrated carving knives.
Take it from me: my world changed tonight after I used this little set. I will never, I repeat, NEVER, go back to carving pumpkins with a standard knife or those cheap-o sets that are sold at this time of the year.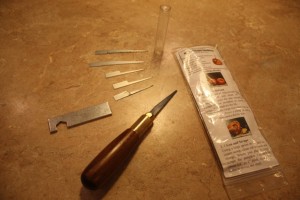 In my last post I showcased some Halloween pumpkins that were my "Pinspiration" for my pumpkin. So I pretty much copied my favourite (the Tim Burton-esque one) by drawing the image freehand on a piece of paper. Then I sprayed the pumpkin with water, "glued" on the piece of paper, traced out the image with a fabric marker thingamabobby and then went to work with the best serrated knife EVER. Here's how that whole process unfolded…
And here's Jack, all lit up!
Other than having to pull all the guts out of the gourd, this year's carving experience could actually be described as pleasant.
So to all my friends, have a safe, candy-filled Halloween and hopefully Environment Canada gets it wrong for Thursday night.