Okay, I'm finally getting back in the saddle and writing a post after a ridiculously long hiatus–and after I got my oven fixed. 
I love my range. It's a Viking Professional. We had it installed when we renovated the house and I couldn't bear to part with it, even if it has had to be repaired twice now. It's kind of like a favourite blanket or pair of shoes. It's comfortable and familiar and I can't imagine any other range living up to it. It's simple. No fancy knobs or bells or electronics. Straight up gas. But it was not baking evenly. I'd get a mixture of under done to slightly burnt depending on where the pan was located in the oven. It was a true range inside the range. Ha!
Now that Joe the Appliance Guy came and fixed the oven, my motivation to cook and bake has been reinvigorated.
Since it is the season for pumpkin and spice and all things hearty and warm, I copied my mom and baked a double batch of Evelyn Raab's soft ginger cookies. My three-year-old could eat these for breakfast, lunch and dinner, which I sometimes let him do. They came out perfectly and have a nice sparkly sheen of sugar coating their little brown selves.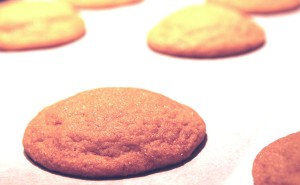 Maybe it's because these cookies are relatively unassuming and they have a healthy *look* to them, but you kind of feel like you're eating something healthy, which is probably why it's so easy to convince yourself to eat more (than one). Key ingredients to these tasty morsels is molasses and of course, powdered ginger. I can't imagine adding anything to them, but let me know if you have experimented with ginger cookies and what combos work for you.
Here's the recipe:
3/4 cup butter

1 cup sugar

1 egg

1 tbsp water

1/4 cup molasses

2 1/4 cups flour

2 tsp ground ginger

1 tsp baking soda

1 tsp cinnamon
Mix butter and sugar with an electric mixer until fluffy. Add the egg, water and molasses and continue mixing until smooth. In another bowl stir flour, ginger, baking soda and cinnamon together (I'm so lazy I actually skip this and mix it all together–but I digress). Add dry mixture to wet mixture and beat until everything is combined into a soft dough. Cover bowl with plastic wrap and put in the fridge while you tidy up and preheat oven to 350 F. Pour some sugar onto a plate–I used fine granulated sugar– Pull the dough out of the fridge and start rolling the dough into 1-1.5 inch little balls. Roll the dough balls in the sugar and place on an ungreased cookie sheet. Bake for 8-10 minutes. They will look soft and like they're not finished but really they are. Let them cool for a couple of minutes and then move them to a plate. This recipe makes 4 dozen.