You know me: I'm an easy target when it comes to finding an excuse to bake for an occasion and what better occasion than Valentine's Day? So I got out the trusty ol' sugar cookie recipe care of Martha Stewart and dug out my heart shaped cookie cutter and got to work.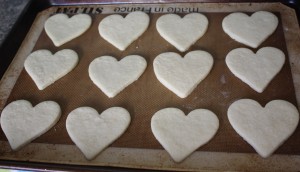 I whipped up some royal icing, also care of Martha Stewart, tinted it with a dash of pink gel to get a nice baby pink and got to work icing them.
I sampled a cookie–which I don't normally do because I want to make sure there are enough for the kids to give out to all their classmates, but we had plenty. I was pleasantly surprised…it had a nice crispy outside and soft and moist inside. And the icing was sweet but it didn't overwhelm the cookie. Now I remember why this is always my go to cookie recipe.