Homesickness is a bitch. I don't remember experiencing this kind of ache for the motherland when travelling overseas as a twentysomething, or even when living in Vancouver while attending university. There are myriad reasons why I could be feeling the way I feel at any given time. Maybe it's the change in the weather–dark mornings and dusky afternoons, shorter days, a crispness in the morning air. Fall is my favourite time of the year, so maybe it's the root vegetables, squash and apples that are in season right now that have me pining for home. Whatever "IT" is, I'm craving comfort and comfort foods.
Today I was a bit manic about cooking and I made a pot of pureed butternut squash soup (a la Martha Stewart's fabulous Everyday Food cookbook) and roasted a batch of golden beets. But things didn't stop there–I missed the Thanksgiving long weekend up at my parents' cottage in Thornbury, Ontario and I was really craving pumpkin pie, so I made the requisite two-pie recipe. The first was almost gone before it had completely cooled.
But the soup and the pie were just the bookends–I needed to come up with a really good stick to yer ribs kinda meal. Ribs! That's it! I had some lovely boneless beef short ribs in the fridge that I thought would be labour-intensive to prepare, but I they weren't. I sliced up an onion, popped it into a slow cooker, cut up the ribs in chunks, poured some amazing L & L sauce on top (this stuff is like GOLD because I brought a case of 12 jars with me when we moved from Toronto last January). L & L is like umami for grilling or cooking meat, it's just that good.
What goes better with slow cooked beef ribs than garlicky mashed potatoes? Nothing. So that's what I made. Oh! And there were delicious, fresh from the farm green beans, blanched and sauteed in garlic oil.
This was the comfort food meal to end all comfort food meals (until I come up with another–ahem! chicken pot pie).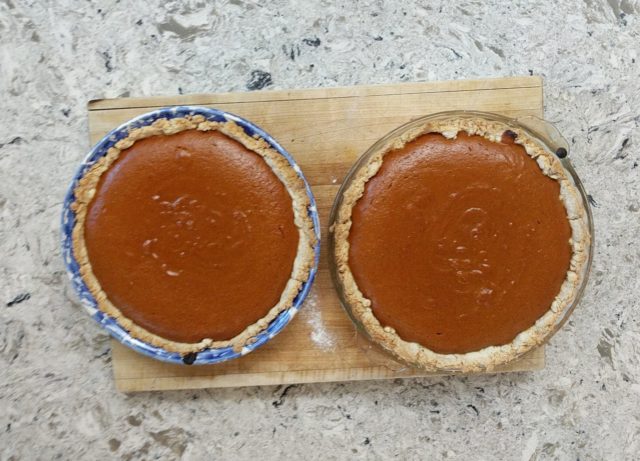 But it's not just comfort food that I'm craving–it's coziness. It's Hygge I'm also longing for–that key ingredient to Danish happiness. Pyjamas, sweatpants, sweaters, blankets, slippers, pillows, duvets, LOTS of candlelight, tea with honey, hot chocolate–ANY hot drink and pastries, LOTS of pastries. I have been fairly successful at achieving Hygge in the past, but now that I feel like a displaced person I think my home senses that I am homesick and therefore it is slightly lacking in the Hygge department. So it's time to pull out the blankets, fluff the pillows, light the candles, bake some cookies, or brownies, or other pastries, put on my flannel pyjamas and get cozy.