I try not to set any expectations when it comes to Mother's Day. Yes, it's a holiday that recognizes the hard work, effort and love that knows no bounds of a mother, but it is hardly a holiday from mothering. But I've got to hand it to my husband–today was a great day. It started with a "sleep in" until 7:40. Yes, believe it or not, that is sleeping in around these parts. I was woken by a soft kiss on the cheek from my 5-year-old and a beautiful tray full of yummy breakfast; a perfectly cooked 2-egg omelet with a fanned strawberry atop, two slices of cinnamon raisin toast with blueberry jam, fresh mixed berries, a mug of tea and some juice. The presentation was impeccable, as evidenced in the picture below.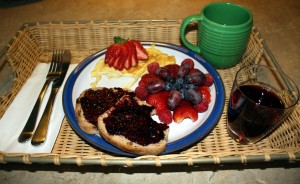 Then came the gifts. Both my boys had made me gifts at daycare. The elder made me a lovely jewelery box and necklace, and the younger, what appears to be a hanging mail holder. These are by far the best gifts a mom could ever receive because there is no monetary value attached to these, just pure sentiment and that's exactly what every mother covets from her children.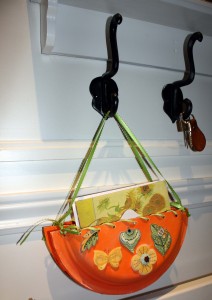 The rest of the day was spent with family celebrating mothers and grandmothers and even one great grandmother. I even had an opportunity to share some one-on-one time with my Mom. I decided to take her to the nursery to pick out flowers for her planter, which I offered to buy and plant for her as a combined Mother's Day and birthday gift (her birthday is a few short days away). While it may not sound like a glamorous outing, it was what I like to call "time well spent." I consider my Mom to be my close friend, and any time spent together is a good time. I think it's safe to say that mothers and daughters tend to have a special bond that's different from the bond shared by mothers and sons. However I do hope that I remain close with my boys as they get older.
The day concluded with a barbeque right at home. My contribution, other than the venue, was my 1-2-3-4 lemon cake, which was a big hit and looked spectacular (if I do say so myself). In some ways I wish every day was Mother's Day, but if I really think about it, every day IS Mother's Day. Not a day goes by that my boys don't need the comfort or care of their mom, and while there are moments where it gets to be too much I think I'll take it while I can get it. I already know how fleeting childhood is and while I will always be their mother, I imagine a day when my boys will no longer wish to cuddle in my arms or be tickled. But I do hope they will always seek me out for advice or simply be a shoulder to lean on. Happy Mother's Day.