Remember when we were allowed to wander freely, casually stopping in at a local coffee shop for a hot drink, a bookstore to browse the new releases or a bakery to grab a yummy treat? Wait! That was just last week, right?
I used to indulge in two treats at Manresa Bread, usually on a Sunday when I was visiting the Campbell Farmers' Market. I could justify the astronomical price for their wholewheat chocolate walnut cookie or their kale parm scone because I rarely indulge (I normally bake everything myself). Now that I won't, ney CAN'T attend the farmers' market, and also because I felt guilty dropping that kind of coin on a cookie or scone, I am baking these at home for ALL to enjoy. And now you can too! The recipe for these scones was originally published in the San Francisco Chronicle when they did a feature on Manresa's head baker, Stephanie Prida.
The recipe calls for cake flour and cream. If you don't have those ingredients, the recipe works just as well with all purpose flour and milk. It also calls for one bunch of lacinato kale. I don't know what that is. And neither do you. But if you do, great! If you don't, just use whatever kale you have access to. If you don't have any kale, you can also substitute it with another green, like spinach or chard–just make sure you wring out any excess water from your leafy green or the scones will be soggy. Another substitution might be the leeks. If you don't have any, try shallots or onions. Given the restrictions of our movements out in public these days, you might not be able to or want to run out to the supermarket to grab everything you need for these scones, so just improvise.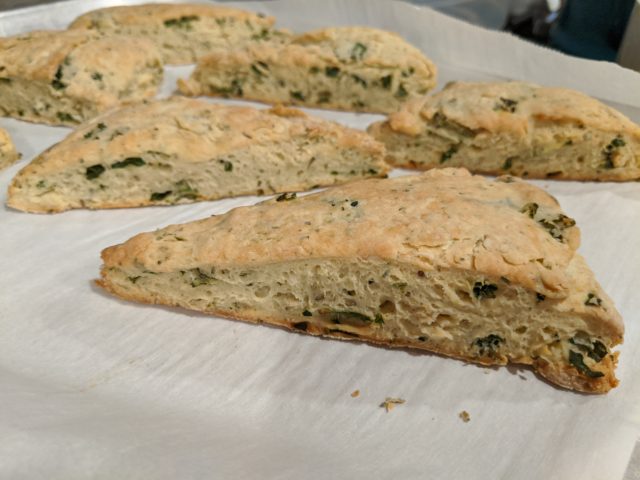 Kale Parmesan Scone Recipe from Manresa Bread

2 Tablespoons olive oil
112 grams (~½ cup) sliced leek (the white part)
1 bunch Lacinato kale, ribs removed, and coarsely chopped
340 grams (2 ½ cups) cake flour
1 Tablespoon baking powder
2 teaspoons sugar
2 teaspoons salt
4 ounces (1 stick) unsalted butter, cut into ½ inch chunks
1 to 1 ½ cups of cream or milk
Grated parmesan (~1/2 a cup)

Instructions

Sautee the leeks in 1 Tbsp. olive oil until they are soft, taking care not to let the leeks colour.
Remove from heat and put in a bowl to cool
Add the other Tbsp. of olive oil to the skillet and sautée the kale for about 3-4 minutes just until it begins to wilt
Remove from heat and put in a bowl to cool

Combine all the dry ingredients into the bowl of a standing mixer
Add the butter chunks and mix on low speed until the butter resembles pebbles
Add the kale and leeks, then the parmesan. Mix on low speed until just combined.
Add 1 cup of cream and mix on low just until the dough comes together. Add more cream if needed.
Turn the dough out onto a floured surface and form into a ball.
Then shape into a rectangle about one inch thick.
Cut into 12 triangles.
Place on a baking sheet and bake at 350 degrees for approximately 20 to 25 minutes until lightly golden on the top and bottom.
Dorin's modifications:
I use milk instead of cream
There are no measurements for the parmesan so I put in about 1/2 a cup of loosely packed grated parmesan. It depends on how cheesy you like your scones
I have made these without the leeks when I haven't had them
I have added raw kale to the dough and it still tasted great