I have dreams of a palatial mudroom where I can consolidate the dog shower, laundry room, coat closet, boot and shoe racks, washer and dryer, drying rack….you get the point. I am fortunate that I already have many of these things in my lovely home, but a girl likes to dream. And the fact that I dream about storage space isn't really that uncommon.I knew that I needed to come up with a small space solution for my kids' coats, boots and bags when they began to drop these things the minute they walked in the front door and it felt as though I had to climb cialis through a tangled mess to get to the kitchen. It also didn't look very neat and tidy, which are my middle names.
So once again I enlisted my handy and good looking husband's help to transform an unused corner of the landing between the main floor and the basement into a mini mudroom for the kids' jackets, backpacks, boots and other miscellaneous items that needed a home.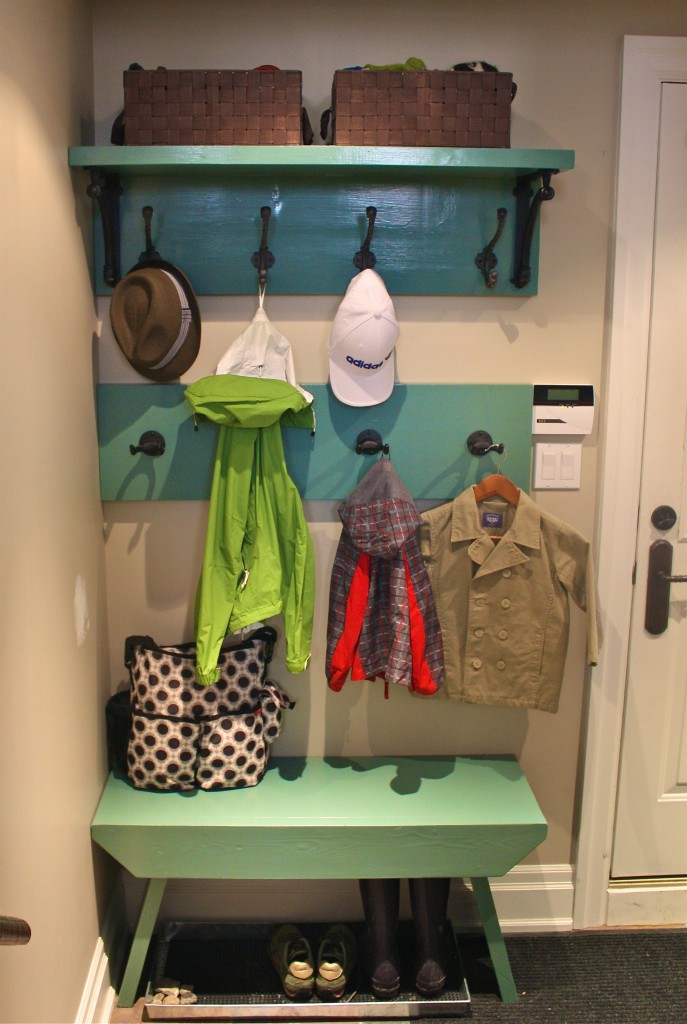 In terms of the aesthetic I wanted to achieve a modern rustic look that was simple, durable and overall functional. I gave my husband creative licence after we settled on the general idea. I really didn't have the mental capacity to figure it all out–I just wanted to clutter to be organized. I got to pick the paint colour and Dave picked the lumber and the hardware.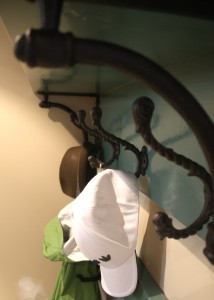 I picked a durable high-gloss greenish-blue from Martha Stewart at Home Depot. I think it was called "Blue Fern."
Dave got 2 x 6 lumber and made me a sawtooth bench along with a board covered in cast iron hooks for backpacks and he made a shelf with really cool antique-looking brackets and  curled hooks for hats and coats. He found the hardware at The Door Store in the design district. It's such a fun store I'm glad I didn't go otherwise he never would have got me out of the store.
I also needed a boot tray and I wasn't about to buy an ugly plastic one (heaven forbid!) and I became fixated on this very stylish metal boot tray from Crate and Barrel. The only problem was they were online only and cost about as much to ship to Canada as the boot tray itself. So I had it shipped to my in-laws on one of their southern vacations. It was a bit of circus (and a costly one at that) getting it back here but there it sits perfectly under the bench holding boots and shoes.
This project really did end up being the perfect marriage of function and form. I love the way my paint job came out and the scale of the pieces doesn't overwhelm the space and make it difficult to move from the main floor to the basement and vice versa. 
And of course it hides the every day stuff from the main entrance of the house. Now I've just got to get my kids to remember to hang everything up there instead of dropping it at the front door!