Time for a break from making finnicky desserts and time for some down-to-earth comfort cookies. I fished out a recipe for these cookies that I got from my long time neighbour, Kelly. I remember she brought a freshly baked batch over to our house and they were gone in no time flat.
I can't remember the last time I made these, probably because the kids can't take these in their school lunches (or rather, I won't let them–there are no laws here in California that prevent kids from bringing peanut and nut products to school, unlike in Ontario where Sabrina's Law exists).
Some would argue these cookies bake best with processed peanut butter like Kraft or Skippy, but I only buy natural peanut butter. Just peanuts!
The butter mixed with the peanut butter was so creamy when I blended it together with the hand mixer.
Then I added the requisite sugar, eggs and flour and voila! beautiful cookie batter.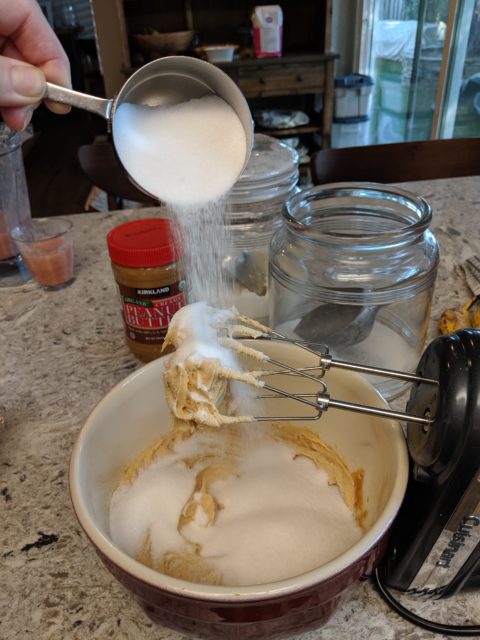 I found a couple of Dairy Milk bars in the cupboard and decided to crush them up and throw them in the batter instead of using chipits and I'm glad I did.
Just before baking, I used the back of a fork to press the requisite hash marks into each cookie. Because, peanut butter cookies. Right?
The resulting cookies were so creamy and delicious, and once again, they disappeared within a few days. I think the milk chocolate chunks also made a big difference.
These were quick and easy to make and didn't require much, if any, skill or precision. So go make some!!!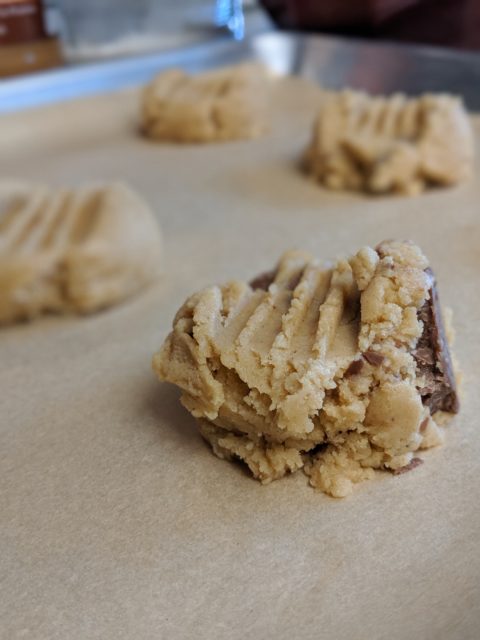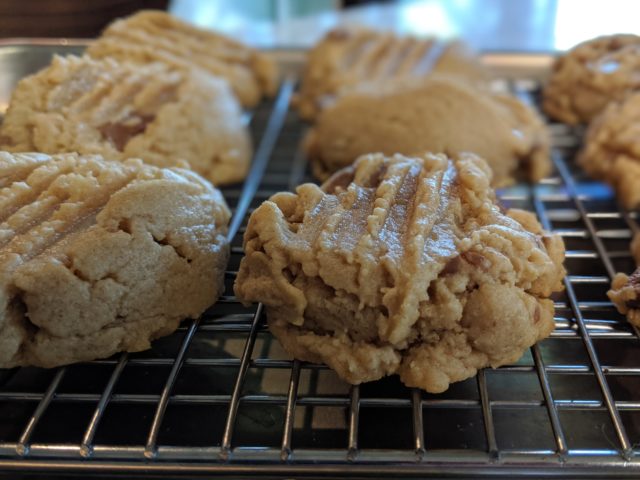 Kelly's Peanut Butter Cookies
1 Cup peanut butter (I like to use all natural smooth PB)
1 Cup unsalted butter, softened
2 eggs
1 Cup granulated sugar
1/2 Cup brown sugar
1 tsp baking powder
2 1/2 Cups, all purpose flour (or you can do half whole wheat flour for a slightly denser cookie)
2 bars of your favourite chocolate bar (I used Dairy Milk), crushed up into chunks
Instructions
Preheat oven to 350 degrees
Blend peanut butter and butter together in a standing mixer or with a hand mixer until completely incorporated
Add eggs and blend followed by sugars
Add baking powder and flour(s) and blend until ingredients are incorporated.
Mix in chocolate chunks until evenly distributed
Scoop 1″ balls of dough onto parchment-lined cookie sheet
Take the back of a fork and press firmly down until fork tine marks appear in flattened cookie (but not too hard!)
Bake for ~10 minutes until cookies are lightly browned
Transfer to a wire rack to cool completely (if you can wait that long!)