Clearly I couldn't wait to get started on this baking project! But the truth is, it was the bananas that couldn't wait. They had passed their peak for eating, and had been languishing on the kitchen counter for a couple of days practically begging me to turn them into a sweet and moist semi-healthy dessert (okay, not so healthy if it falls into the dessert category).
I got this recipe from my mother many, many years ago and pretty much know it off by heart. It is dairy-free, which I consider to be a positive. However, it does call for A LOT of sugar. I think I could probably cut down on the sugar, but I haven't tried yet.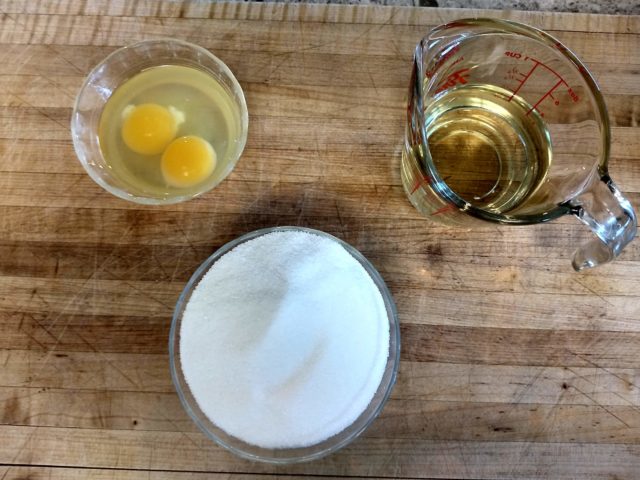 Sometimes I bake this batter into muffins so the kids can take it to school in their lunches, or I've even done it in a loaf pan, but it seems to have a hard time baking through the centre because it's such a wet batter.
Today I went for the classic bundt cake, which makes it bake up beautifully with a deep brown outer layer. An important note about the chocolate chips: if you use full size semi-sweet chocolate chips, they sink to the bottom of the batter, thus sticking to the side of the pan so that when you turn it out, your cake will have pock marks. I confess, I used about half a cup in this recipe, but I also added in chopped up semi-sweet chocolate bits and they did not sink to the bottom of the pan.
The recipe I normally use also calls for half a cup of either orange or apple juice. I think this simply makes the cake more moist and gives it a nice glossy shine on top. I did not have any juice in the fridge today, but I did have a bowl of homemade apple sauce, so I used that instead and I think I might like the results better this way.
This is one of the most adaptable cakes I have ever made. It's like an outfit that can go from day to night–it's a great cake that you can call "bread" if need be, but it can also be fashioned into a layer cake with mocha or chocolate icing for a special occasion, which I have done in the past, particularly for birthday celebrations. Once you've made it as many times as I have, you will quickly realize that the threat of bananas going bad in your house is a non-starter because you can take those over ripened fruits and turn them into a delicious cake that is good to eat any day of the week.
Banana Chocolate Chip Cake/Bread/Muffins
3 overripe bananas
2 eggs
1 1/2 cups of sugar
1/2 cup canola oil
2 cups of flour
1 teaspoon baking powder
1 teaspoon baking soda
1 teaspoon vanilla extract
1/2 cup of orange juice
1 cup of chocolate chips or chunks
DIRECTIONS:
Mix the bananas in a standing mixer or with a hand mixer until they are smooth. Add in the eggs, sugar and oil and mix until thoroughly combined.
Add the dry ingredients, alternating with the remaining wet ingredients (baking powder, then vanilla, then soda, then OJ), mixing after each addition. Add the chocolate chips.
Pour into a well greased bundt pan, or a parchment lined loaf pan, or into muffin cups.
Bake at 350 degrees. Baking times will vary depending on what you are making. Cakes and loafs will take close to an hour to bake, while muffins take between 20 and 25 minutes. Test the cake by inserting a toothpick or wooden skewer into the centre. The toothpick must come out clean or "dry." Let the cake cool for 10 minutes before turning it out on to a cooling rack.
Muffins can be removed immediately so you can make the next batch–just don't burn yourself!