When I opened the front door this morning I was hit by a wave of hot air not unlike that which escapes from the oven when I'm baking cookies, except this was the air outside. Everywhere. The air we breathe. The forecast called for temperatures in the mid-30's with a Humidex in the mid-40's. Ugh!
Even thought it was morning I was already thinking about what to make for dinner. The last thing I wanted to do was turn on the oven IN the house. And I certainly didn't want to fire up the barbeque and stand in front of a flaming hot grill. 
So I decided to make my version of a Nicoise salad. Nice and simple but hearty enough to fill the belly–and super easy.
First the fresh stuff: blanched green beans, sliced cucumbers, sliced tomatoes. and sliced red peppers.
Then the proteins and canned goods: a tin of tuna, a tin of chick peas, a tin of corn niblets, a tin of artichoke hearts and some sliced hard boiled eggs.
And finally I roasted some mini red potatoes, but I only used the toaster oven so my kitchen remained at a comfortable temperature.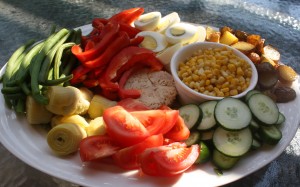 I think a true Nicoise salad also includes anchovies but I can't count a single person in my household who would eat those salty suckers so I didn't even consider it.
The boys gushed over the meal (they love hard boiled eggs and canned corn) and not a single bead of sweat was required in the preparation of this meal so I think I'll be making this again soon.
Next time I might throw in some golden beets and avocado–other favourites in our household. If you've made your own signature version of a Nicoise salad let me know what you put in it.