The only reason I'm posting this right now is because I'm feeling a tad patriotic (and because some fellow Canadian moms asked for the recipe!). At the time of writing, the Raptors are in the NBA finals against the Golden State Warriors, who play but an hour away from the home I am sitting in right now. #WeTheNorth mania has taken over Toronto and much of the country north of the 49th parallel, not to mention a lot of the United States. There is even going to be a viewing party in San Francisco for one of the games co-hosted by the Canadian Consulate and Maple Leaf Sports and Entertainment (the owners of the team).
It also feels like summer outside and I equate butter tarts with summer, not to mention Canada Day, which is around the corner too.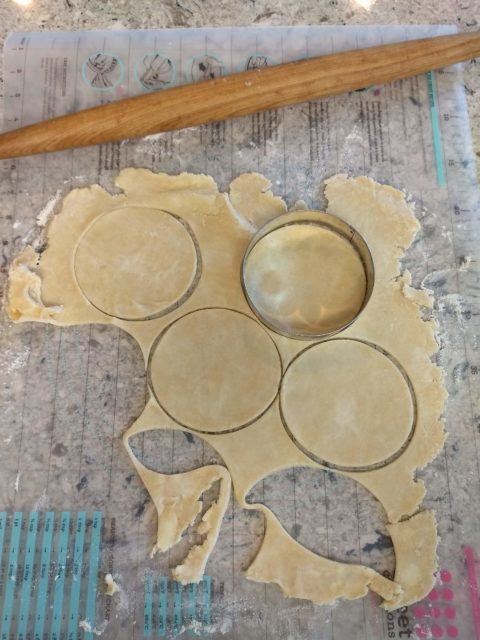 I've tried a few butter tart recipes, but I think this one is my favourite so far. The pastry is super easy to make and easy to manipulate–IF you follow the instructions.
And the filling is also straightforward. You are more than welcome to add raisins, pecans, craisins, or whatever your heart desires. I'm a purist and like to keep it plain. They are super rich, super sweet with a super flakey pastry and super worth the time and effort.
You're non-Canadian friends will thank you, but be careful: once you share these with them, they will want them again. And again. And again.
Rosie Daykin's Quintessential Butter Tart
Start by making All Butter Pastry (makes enough for a couple dozen tarts)
5 cups of all-purpose flour
1 teaspoon salt
2 cups butter, chilled and cut into 1-inch cubes
1 large egg
1 tablespoon white vinegar
water
Place flour and salt in a large bowl, drop the butter all over the flour mixture. Using a pastry cutter, cut the butter into the flour until it resembles large crumbs. You should still be able to see some butter in the flour.
Crack the egg into a liquid measuring cup and add the vinegar. Top up with enough cold water until it reaches 1 cup. Whisk until combined. Pour over the flour and butter mixture.
Mix with a fork until the dough starts to come together and looks ragged. Use your hands to gently finish mixing the dough and it takes shape. You should still see some butter bits!
Divide the dough into four even disks about 1/2 an inch thick. Wrap in plastic wrap and refrigerate for a minimum of 2 hours or better yet, overnight.
Now prepare the filling:
3 large eggs
1 1/2 cups light brown sugar
1 1/2 teaspoons vanilla extract
3/4 teaspoon lemon juice
1/2 teaspoon salt
3 cups of sultana raisins (if you like raisins!)
Whisk all the above ingredients together and put in a liquid measuring cup with a spout so it's easy to pour.
Roll out the chilled pastry on a floured surface with a rolling pin to about 1/8 inch thick. Use a 4 or 5-inch circular cutter to cut out the pastry circles.
Make sure your muffin tin is well greased with shortening (I use Crisco).
Rosie's secret technique: Take each circle and pinch it at two points, best visualized as 3 o'clock and 9 o'clock. Then lift up and pinch 12 o'clock and 6 o'clock and place in the muffin tin. Fill the tin with the pastry and then chill in the fridge for about 10 or 15 minutes.
Fill each tart shell with about 2 Tbsp of raisins (or not). Then top with the filling until 2/3 full.
Bake in a 350 degree oven for about 20 minutes or until the pastry has browned and the centre of the tarts are puffed and golden.
Make sure not to drip the filling down the side of the muffin tins, otherwise the sugar mixture will stick to the pan and you will have trouble getting the tarts out.
Allow tarts to cool a bit before removing from pan.